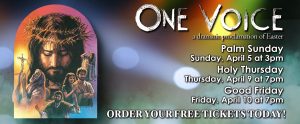 One Voice is a dramatic Easter musical, A Passion Play. Make your plans now to attend this year's performances of "One Voice" at Light The Way Church in Cottage Grove.
This dramatic presentation allows you to witness the life, death and resurrection of Jesus through the eyes of two secret followers; Pharisees, Nicodemus and Joseph of Arimethea.
You will witness how God can use each of us as a voice brining Hope and Peace to the world through Christ our Savior, and experience the power of the Resurrection of Christ.
Admission is free, and a free-will offering will be received at each performance.